including VAT
|
Free shipping
Ladies stainless-steel watch 'HB105' by BOSS
model H5009 - 1502285 WMP-B-S 58020191
999_Assorted-Pre-Pack
Casing and strap: stainless steel
Shiny and subtly brushed finish
Watch face: white
Movement: time of the day marked out with dashes
Roman numerals on the top and bottom of the surround
BOSS logo on the folding clasp
Water resistant: 5 ATM
Mercury free

Elegant, detailed watch made of high-quality stainless steel by BOSS. The beautifully shaped ladies watch is distinguished by its sporty lines and matt/shiny finish that also adds a touch of luxury. The time of day is marked out with dashes on the watch face whilst Roman numerals decorate the contrasting colour surround at the top and bottom.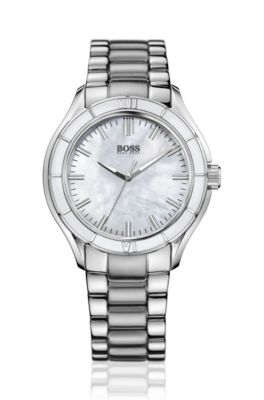 Loading ...